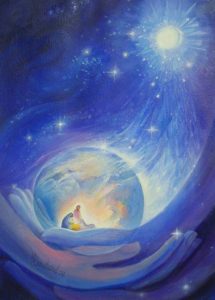 What if…
…every time you saw a nativity scene, you visualized the baby as a metaphor for a mysterious, beautiful energy that is constantly birthing itself  into the world?

…every time you heard a song about the nativity, you used lyrics such as 'o come let us adore him' as a reminder to honor this energy that is already alive within yourself and within everyone you meet?
…every time you encountered any version of the Christmas story, you allowed it to serve as a reminder that although this beautiful energy is "forever being born in the human soul," we must constantly make room in our awareness for it – emptying our minds of the clutter, opening to the reality of the present – because otherwise "there is no room in the inn for such a mystery?"

What if the point of the Christmas story has always been that:
1) this mysterious, beautiful energy is already present "hidden inside of everything"
2) yet we're still always waiting (longing!) to see it revealed in the world because we're too clouded from the reality that this energy is everywhere and already birthed inside of us?

Try listening to the story and all of its details – angels singing in the sky, refugee woman giving birth in stranger's shed, lowly field men approaching in awe – as a metaphor for a moment when suddenly the universe stops and loudly announces that this energy of love is here! alive in the world! incarnate!

Behold! I bring you great news! The beautiful energy of love is here! Alive in the world! Incarnate!
And when an evil king tries to snuff out this loving energy  – be like the wise person who followed their intuition and enabled the energy to prevail.

May each of you fully know the beauty that is already birthed inside of you.
Merry Christmas!
(All quotes come from Richard Rohr's Advent Message video which can be found here.)