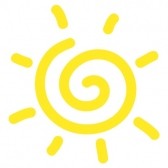 Do you have moments when you are bursting with love, joy, gratitude and connection – connection to others, to yourself, to creation and to the Mystery around us?
I call this being Spirit Full.
It can happen while holding a yoga pose, playing frisbee with your dog, dancing with your daughter or hitting your stride on a professional or creative project.
An ideal, Spirit Full life is being in that moment – this moment – more and more each day. It is learning to notice when your soul is leading you in a Spirit Full direction as you make both daily choices and big life decisions. It is realizing that your relationships, your work and your whole life can be Spirit Full. It is learning to embrace the mystery and uncertainty of life.
It's hard.
Especially when you're feeling defeated. Or worried. Or cranky.
Maybe it's been years since you had a Spirit Full experience, and in the meanwhile you are struggling to figure out who you are and what you're supposed to be doing with your life.
Spiritual Direction is an ancient practice in which a director listens deeply to your story as it unfolds and illuminates how the Spirit is directing you to a Spirit Full life. Spiritual Direction exists in some form in all ancient faith traditions.
I was raised Catholic, have studied various beliefs and spiritual practices and earned a graduate Certificate in Spiritual Direction from St Catherine University. I believe there is truth in the intersection of faiths from around the world.
Tell me your story and I will reflect your truth back to you as we focus our attention on the Sacred presence. Sessions are typically one-hour and take place once or twice a month. We can meet in person in the Twin Cities, MN or via Skype.
Just email me at Carolyn@SpiritFullDirection.com or join my email list (see right side bar.)
To find a different Spiritual Director, or learn more about the process, visit the website of Spiritual Directors International.
SpiritFull Direction guides you in reflecting on where your life has been,                                          how you want to feel in the future and what makes your sacred journey unique.